CARNAGE PUMP - NON-STIM PRODUCT DESCRIPTION
GET PUMPED.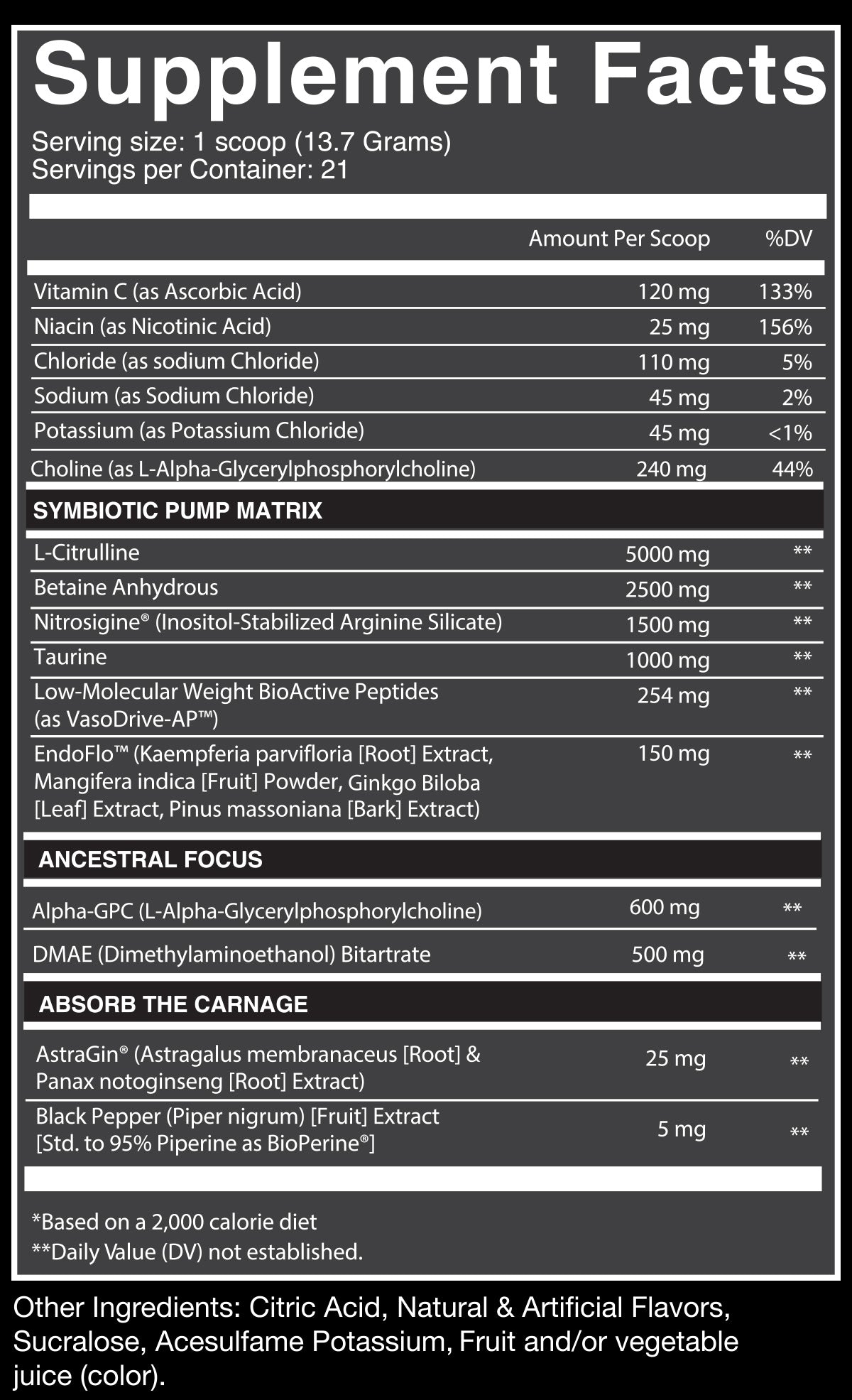 Product Details
NutriFitt Full Disclosure Label
All NutriFitt products feature a 100% fully transparent label, so you can feel comfortable knowing exactly what you are putting in your body. No proprietary blends and no mystery doses. Each active ingredient is clearly stated, which allows you to purchase and use our products with complete confidence.
L-Citrulline
L-Citrulline is a powerful ingredient that can help dilate the blood vessels and help shuttle oxygenated blood and nutrients into the working muscles. This dilation and influx of blood into the muscles can drastically help increase the pump you can achieve and volumization. Additionally, citrulline can help boost growth hormone (GH) levels following intense workouts.
Betaine Anhydrous
When it comes to a one-two punch, betaine has a stellar combination. With the ability to not only help reduce overall fat mass, betaine can also aid in building new lean muscle tissue. Betaine can increase muscle force and power output while improving muscle endurance as well. Additionally, supplementing with betaine may help minimize muscle soreness following intense bouts of exercise.
Nitrosigine®
This patented complex of bonded arginine silicate can help take your training performance to new heights. Nitrosigine is a powerful non-stim ingredient that has been used in 30 studies and is deemed incredibly useful for those who exercise. The use of Nitrosigine can help promote nitric oxide (NO) production to enhance blood vessel dilation and improved blood flow, which can provide you with the pump you desire during workouts. Additionally, Nitrosigine can help fuel your workouts by providing a boost in energy as well as heighten focus to achieve a solid mind-muscle connection.
Taurine
Workout performance can determine the type of results you get from your efforts. Taurine is the perfect addition to an intra-workout supplement as it has the ability to enhance muscular contractability, increase force production, and reduce muscular fatigue. Taurine has been shown to be able to help remove waste products such as lactic acid from the muscles, which can allow you the ability to push your body further and harder during each set. Muscle soreness and DOMS can also be minimized through the inclusion of taurine.
VasoDrive-AP™
A patented compound that kicks nitric oxide production into overdrive to help enhance muscle pumps while also helping to drastically reduce muscle soreness following workouts. If you chase the pump during your workouts, you'll love the look and feel you can achieve through VasoDrive-AP when you look in the mirror and do a double-take to ensure the person in the reflection is really you.
EndoFlo™
This new patented compound consists of 4 key specific botanical extracts to provide enhanced nitric oxide (NO) production, vasodilation, blood flow, and antioxidant levels. Rich in natural compounds such as oligomeric proanthocyanidins, flavonoids, phosphodiesterase-5 inhibitors and eNOS enzyme activators to provide you with the pump and performance you desire during workouts.
DMAE
This unique ingredient has many benefits that can be experienced through its use. DMAE can help improve memory, boost workout performance, and may enhance your mood and sense of well-being. Putting yourself in the right state of mind while in the gym can allow you to put your focus on your workout and amplify your results.
Alpha GPC
Alpha GPC is the most bioavailable form of Choline currently available. Choline is a water soluble nutrient which acts as a precursor to the neurotransmitter acetylcholine. Acetylcholine plays an important role in many cognitive processes including memory, intelligence, and mood. Alpha GPC is generally regarded as the most potent form of Choline due to its ability to rapidly pass the blood brain barrier.
Astragin®
A 100% natural and patented compound that can help promote gut health and increase the absorption of various ingredients to maintain their full potency. Astragin helps prevent the body from allowing ingredients to pass through the digestive tract without being broken down and utilized.
BioPerine®
This patented ingredient can be considered the glue that keeps a formulation together. The active compound has both antioxidant and anti-inflammation properties while also helping to improve the absorption of nutrients and other ingredients. BioPerine may also aid in brain function, blood sugar regulation, and healthy digestion.
SUGGESTED USE
15-30 MINUTES PRIOR TO TRAINING, TAKE (1 SCOOP) MIXING THOROUGHLY WITH 10-16 OUNCES OF COLD WATER OR BEVERAGE OF CHOICE. FOR AN EXTREME WORKOUT EXPERIENCE, STACK WITH PRE FITT OR PRE FITT CARNAGE!
Amazing Pump
Thus stuff is really good you can really feel the muscle you're focusing on alot more while you're working out and you stay focused
My Favorite pre workout EVER
I ama natural amateur bodybuilder I am competing for my pro card this Saturday August 26, 2023 I don't use any stimulants no caffeine yohimbine etc… I have to say in my Honest to God opinion this is the best pre workout I've ever taken the pumps are unreal and the flavor is FANTASTIC this is the only pre I've ever genuinely looked forward to taking I personally use 2 scoops just cause I like to get more than 8g of Citrulline in especially on arm day. Overall great product God Bless