EPIC GREENS PRODUCT DESCRIPTION
EAT. MORE. GREENS.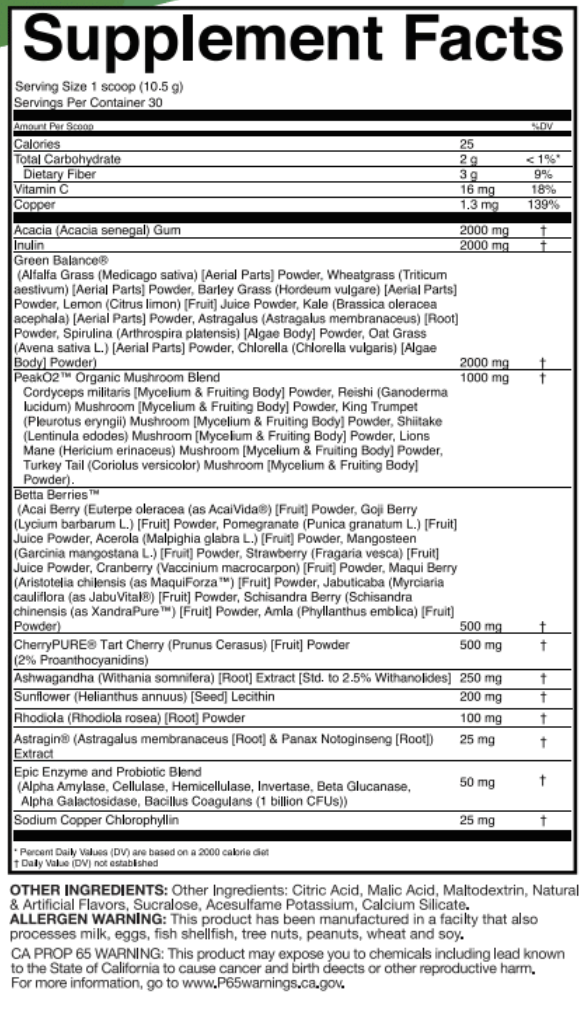 Product Details
Full Disclosure Label
All NutriFitt products feature a 100% fully transparent label, so you can feel comfortable knowing exactly what you are putting in your body. No proprietary blends and no mystery doses. Each active ingredient is clearly stated, which allows you to purchase and use our products with complete confidence.
Acacia Gum
A naturally sticky plant ingredient that has been used in medicines for centuries. Acacia gum is a water-soluble dietary fiber that can help reduce inflammation in the body. It has also been shown to help relieve pain and ease stomach irritation and discomfort.
Inulin
This natural plant is a good source of fiber that can help you feel satiated, slow down the digestion of food, and help promote digestive health. Inulin possesses a natural defense mechanism that can help boost immunity and fight off harmful pathogens that could harm the body. Another benefit of inulin is its ability to help control blood sugar which happens due to slowing down digestion and preventing a spike in insulin.
Green Balance®
A potent and powerful patented ingredient that is made up of essential compounds that, when combined, help energize the body and support the replenishment of crucial minerals. Green Balance utilizes specific vitamins, minerals, phytonutrients, chlorophyll, and live enzymes to help boost immunity and improve overall health.
PeakO2™
This patented ingredient has been scientifically proven to provide more power output, the ability to work out longer and harder, as well as helping to increase your overall workout performance. Proven to increase power and endurance in only 7 days! PeakO2 is an organic-certified combination of six Ayurvedic mushroom strains grown that are harvested in the US. These mushrooms are powerful adaptogens, which allow the user to "adapt" to and overcome physical and mental stress, giving you the edge you want and need to take your training to the next level.
Betta Berries™
A trademarked ingredient that contains a powerful blend of acai, acerola, amla, cranberry, goji, jaboticaba, mangosteen, maqui, pomegranate, schisandra berry, and strawberry, that possesses potent compounds such as flavonoids, resveratrol, carotenoids, and xanthones. The combination of vital vitamins, minerals, and antioxidants helps protect the cells and body from stress and free radical damage while also playing a role in helping manage inflammation found in the body.
CherryPURE® Tart Cherry Powder
CherryPURE is a patented ingredient that utilizes 100% Montmorency tart cherries. These unique tart cherries provide a natural and healthy source of nutrients and antioxidants to help protect the body and support proper functioning. CherryPURE can also help improve recovery following resistance workouts as well as demanding endurance training.
Ashwagandha Extract
An ancient herb that is known for helping manage stress by suppressing cortisol levels. It can also aid in boosting cognition and brain function, reducing inflammation, and managing blood sugar levels. In men, ashwagandha extract has also been found to aid in increasing fertility and testosterone levels which supports strength and lean muscle tissue growth.
Sunflower Lecithin
Rich in choline and fatty acids, sunflower lecithin can help control blood pressure, improve liver function, lower cholesterol levels, and manage arthritis.
Rhodiola Powder
A herb generally known for its ability to grow in very cold regions is known for helping manage stress levels. Rhodiola has also been found to aid in reducing fatigue and blood sugar while also supporting proper brain function and heightened exercise performance.
Epic Enzyme and Probiotic Blend|Sodium Copper Chlorophyllin
The precise blend of crucial enzymes and probiotics play a vital role in balancing healthy bacteria in the digestive system. This combination provides the body with the ability to fight off harmful pathogens that enter the body, helps keep the digestive tract healthy, may boost the immune system, and can even support healthy weight loss. |Considered a super antioxidant, sodium copper chlorophyllin is water-soluble and bioavailable and can help protect the body from oxidative stress, pathogens, and harmful toxins or chemicals. It also possesses powerful anti-inflammatory properties. Sodium copper chlorophyllin can also help promote the production of both red and white blood cells.
Astragin®
A 100% natural and patented compound that can help promote gut health and increase the absorption of various ingredients to maintain their full potency. Astragin helps prevent the body from allowing ingredients to pass through the digestive tract without being broken down and utilized.
fantastic
The peach flavor is the ideal companion for this summer, it not only gives you energy and helps you in your activities, it is also very refreshing.
Tastes like candy
I love these greens! They taste so good even my four year old son makes me share!